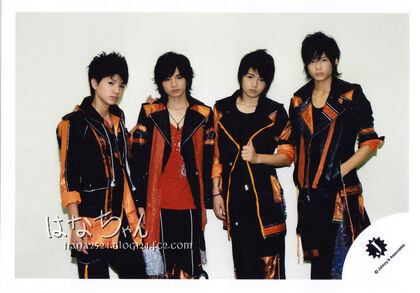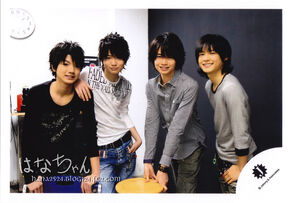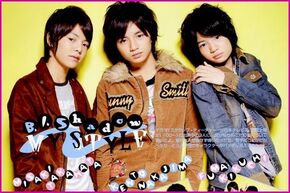 B.I.Shadow is a Johnny & Associates unit. The name B.I.Shadow stands for "Boys In Shadow".
Information
[
]
B.I.Shadow was formed as a Johnny's Jr. group. At that time the members were: Nakajima Kento, Kikuchi Fuma, and Takahata Misaki. During that year, they acted in the drama Scrap Teacher. In March 2009, Matsumura Hokuto joined the group during a Hey! Say! 7 concert. On May 27, 2009, Takahata suddenly quit Johnny's , because of his studies. Later in the same year Kochi Yugo joined Johnny's and was put in the group shortly after his audition. On June 4, 2009, it was announced B.I.Shadow would debut with Yuma Nakayama as Nakayama Yuma w/ B.I.Shadow.
On April 1st, Johnny & Associates created the earthquake relief project "Marching J", they held their first fundraising event in front of the First Gymnasium at the Yoyogi National Stadium. It started at 10:00 am, and 101,000 people stopped by over the 6 hours-and-30 minutes run-time. On the first day, Kondo Masahiko, Nishikiori Kazukiyo, Uchiumi Koji, TOKIO, KinKi Kids, Arashi, Tackey & Tsubasa, NEWS, Kanjani8, KAT-TUN, Hey! Say! JUMP, Nakayama Yuma, Yonehana Tsuyoshi, Machida Shingo, A.B.C-Z, and B.I.Shadow made their appearance.
Members
[
]
Current Members
[
]
Former Member
[
]
Works
[
]
Dramas
[
]
[2008]

Scrap Teacher

[2009]

Koishite Akuma

(Nakajima Kento as Handa Hiroto)
[2011]

Taisetsu na Koto wa Subete Kimi ga Oshiete Kureta

(Nakajima Kento as Kodama Kentaro)
[2011]

Umareru.

(Nakajima Kento as Hayashida Koji)
Concerts
[
]
Hey! Say! JUMP Winter Concert 2010-2011 (December 25, 2010 - January 16, 2011)
Hey! Say! JUMP and NYC National Tour Spring Concert 2011 (Concert Cancelled)

Hey! Say! JUMP & Yuuki 100% Concert with Nakayama Yuma

(April 10, 2011 - May 29, 2011)
SUMMARY 2011 (August 7, 2011 - September 11, 2011)
External Links
[
]
Johnny & Associates
Groups

A.B.C.-Z

, Arashi,

GOLF & MIKE

, Hey! Say! JUMP, Kanjani8, KAT-TUN, KinKi Kids, Kis-My-Ft2, NEWS, NYC, Sexy Zone,

Shounentai

, SMAP,

Tackey & Tsubasa

,

TOKIO

, V6
Special Groups

20th Century

,

Coming Century

,

J-FRIENDS

,

Kitty GYM

,

MATCHY with QUESTION?

,

Nakayama Yuma w/B.I.Shadow

, NYC boys,

Shuuji to Akira

,

Tegomass

,

The SHIGOTONIN

,

Toraji Haiji

,

TRIO THE SHAKiiiN

Solo Artist
Akanishi Jin,

Domoto Koichi

,

Domoto Tsuyoshi

,

Ikuta Toma

,

Kondo Masahiko

,

Takizawa Hideaki

, Yamashita Tomohisa
Kanto Jr.

Butoukan

,

Jr.BOYS

,

MADE

,

Mis Snow Man

,

M.A.D.

,

MA-Mix

,

noon boyz

,

Question?

,

They Budou

Kansai Jr.

7 WEST

,

B.A.D.

,

Gang-Star

,

Little Gangs

,

Shadow WEST

,

Veteran

Past Debuted Groups

Four Leaves

,

Hikaru GENJI

,

LITTLE GANG

,

Johnny's

,

Johnny's Junior Special

,

Ninja

,

Otokogumi

,

Shibugakitai

,

THE GOOD-BYE

Past Johnny's Jr. Group

A.B.C.

,

A.B.C. Jr.

,

B.I.G. WEST

, B.I.Shadow,

BOYS

,

FiVe

,

Four Tops

,

Heike-ha

, Hey! Say! 7,

I.N.G. Shinkoukei

, J.J. Express,

Kis-My-Ft

,

K.K.Kity

,

OSSAN

, Snow Prince Gasshoudan,

Tanokin Trio

, Tap Kids,

TOP Kids

,

V.West

,

Ya-Ya-yah