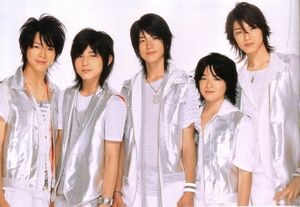 Hey! Say! 7 is a Johnny's Jr. unit. The name stands for that all members are born in the Heisei era and that the year of their formation was 2007.
Hey! Say! 7 made their first appearance on KAT-TUN's spring concert 2007 that started in April. They started appearing in idol magazines in June as an individual group.
On the 13th of June, it was announced that they would sing the next opening to the popular anime Love★Com. Three days later on the 16th it was announced that Hey! Say! 7 would release a single on August 1st, titled "Hey! Say!". The single contained both the opening and ending themes to the anime.
On September 24th, Hey! Say! JUMP was created including the members of Hey! Say! 7.
Hey! Say! JUMP
Members
Yabu Kota, Takaki Yuya, Inoo Kei, Yaotome Hikaru, Arioka Daiki, Okamoto Keito, Yamada Ryosuke, Nakajima Yuto, Chinen Yuuri
Morimoto Ryutaro
Albums
JUMP NO.1, JUMP WORLD
Singles
Ultra Music Power, Dreams Come True, Your Seed / Bouken Rider, Mayonaka no Shadow Boy, Hitomi no Screen, "Arigato" ~Sekai no Doko ni Itemo~, OVER, Magic Power, Super Delicate, Come On A My House
DVDs
Hey! Say! JUMP Debut & First Concert Ikinari! in Tokyo Dome, Hey! Say! Jump-ing Tour '08-'09, Hey! Say! 2010 TEN JUMP, SUMMARY 2010 , SUMMARY 2011 in DOME, JUMP WORLD 2012
Related Topics
NYC, Hey! Say! 7, Hey! Say! 7, Hey! Say! BEST
Johnny & Associates
Groups
A.B.C.-Z, Arashi, GOLF & MIKE, Hey! Say! JUMP, Kanjani8, KAT-TUN, KinKi Kids, Kis-My-Ft2, NEWS, NYC, Sexy Zone, Shounentai, SMAP, Tackey & Tsubasa, TOKIO, V6
Special Groups
20th Century, Coming Century, J-FRIENDS, Kitty GYM, MATCHY with QUESTION?, Nakayama Yuma w/B.I.Shadow, NYC boys, Shuuji to Akira, Tegomass, The SHIGOTONIN, Toraji Haiji, TRIO THE SHAKiiiN
Solo Artist
Akanishi Jin, Domoto Koichi, Domoto Tsuyoshi, Ikuta Toma, Kondo Masahiko, Takizawa Hideaki, Yamashita Tomohisa
Kanto Jr.
Butoukan, Jr.BOYS, MADE, Mis Snow Man, M.A.D., MA-Mix, noon boyz, Question?, They Budou
Kansai Jr.
7 WEST, B.A.D., Gang-Star, Little Gangs, Shadow WEST, Veteran
Past Debuted Groups
Four Leaves, Hikaru GENJI, LITTLE GANG, Johnny's, Johnny's Junior Special, Ninja, Otokogumi, Shibugakitai, THE GOOD-BYE
Past Johnny's Jr. Group
A.B.C., A.B.C. Jr., B.I.G. WEST, B.I.Shadow, BOYS, FiVe, Four Tops, Heike-ha, Hey! Say! 7, I.N.G. Shinkoukei, J.J. Express, Kis-My-Ft, K.K.Kity, OSSAN, Snow Prince Gasshoudan, Tanokin Trio, Tap Kids, TOP Kids, V.West, Ya-Ya-yah
Community content is available under
CC-BY-SA
unless otherwise noted.