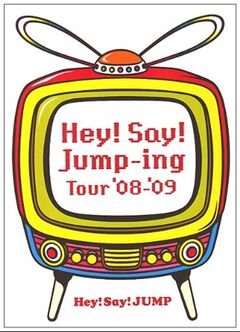 "Hey! Say! Jump-ing Tour '08-'09" is the 2nd DVD live concert released by Hey! Say! JUMP under J Storm. The DVD covers the last performance of the group in Yokohama Arena. The DVD was certified Gold by RIAJ.
Tracklist
Edit
"Overture"
"FLY"
"Wonderland Train" (ワンダーランド・トレイン) - Hey! Say! 7
"Uruwashi no Bad Girl" (麗しのBad Girl) - Nakajima Yuto
"Moonlight" - Yamada Ryosuke
"Kawaii Kimi no Koto Damono" (カワイイ君のことだもの) - Chinen Yuuri then Hey! Say! 7
"Deep Night Omou" (Deep night 君思う)
"Mayonaka no Shadow Boy" )真夜中のシャドーボーイ)
"School Kakumei" スクール革命)
"Taiyo ni Love Motion!" (太陽にLOVE MOTION!)
"Star Time"
"Honey Beat"
"Hadashi no Mirai" (ハダシの未来)
"Su.Ri.Ru" (ス・リ・ル) - Hey! Say! BEST
"Switch" - Hey! Say! BEST
"Kumo no Ito" (蜘蛛の糸) - Takaki Yuya
"Itoshi no Play Girl" (愛しのプレイガール) - Hey! Say! 7
"Summary Medley" (SUMMARYメドレー)

SUMMARY ~Toki no Tabibito~
Chance to Change
Glorious
Jitabata Junchou
Asia no Yoru

"Bouken Rider" (冒険ライダー)
"Memories"
"Yuuki 100%" (勇気100%)
"Tobira no Mukou" (トビラの向こう)
Information
Edit
The concert tour began from the end of 2008 till the early year of 2009. The concert toured a total of three cities in Japan. Osaka, Nagoya, and Yokohama, where the concert DVD was shot last January 05, 2009 and attracts 140,000 people. The concert covers a full spectacular show that showcase the number one singles of the group over the past year. The DVD features a total of 28 stage performances that will surely amaze every people who will watch it.
Members featured in this release
Edit
Hey! Say! JUMP
B.I.Shadow (Boys in Shadow)
Hey! Say! JUMP
Members
Yabu Kota, Takaki Yuya, Inoo Kei, Yaotome Hikaru, Arioka Daiki, Okamoto Keito, Yamada Ryosuke, Nakajima Yuto, Chinen Yuuri
Morimoto Ryutaro
Albums
JUMP NO.1, JUMP WORLD
Singles
Ultra Music Power, Dreams Come True, Your Seed / Bouken Rider, Mayonaka no Shadow Boy, Hitomi no Screen, "Arigato" ~Sekai no Doko ni Itemo~, OVER, Magic Power, Super Delicate, Come On A My House
DVDs
Hey! Say! JUMP Debut & First Concert Ikinari! in Tokyo Dome, Hey! Say! Jump-ing Tour '08-'09, Hey! Say! 2010 TEN JUMP, SUMMARY 2010 , SUMMARY 2011 in DOME, JUMP WORLD 2012
Related Topics
NYC, Hey! Say! 7, Hey! Say! 7, Hey! Say! BEST