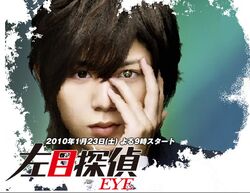 Hidarime Tantei EYE (左目探偵EYE) is a drama, starting Yamada Ryosuke, Yokoyama Yu, and Ishihara Satomi this drama will be the sequel to their previous drama, "Hidarime Tantei EYE SP" which was broadcasted on October 2009. The show aired on January 23, 2010 - March 13, 2010.
Tanaka Ainosuke, a third-year junior high school student with a strong sense of justice, underwent a cornea transplant of the left eye. However, after that, he received news that his older brother, Yumehito, the donor of that cornea, had died in an accident. Furthermore, Ainosuke was shocked by the images in his left eye which he had never seen before. Deducing that these images were connected to his brother's death, Ainosuke began to search for the truth surrounding the death of his beloved brother and only immediate family. But as the investigation progressed, Ainosuke discovered that Yumehito's death had been fake and that he is actually the leader of an evil organization. This sets the stage for a clash of fate between the two brothers. Ainosuke, the young sleuth armed with a special left eye and Yumehito, the genius criminal who has carried out many criminal plots.
Okada Yoshinori as Kato Takashi
Katahira Nagisa as Komukai Noriko
Haruna Ai as Akikaze Miruku
Watanabe Ikkei as Yoshida Ichiro
Sano Shiro as Fukuchi Yuya
Crystal Kay as Kokusho Akira
Nakayama Yuma as Kaito Masaki (ep 1 and 2)
Yagi Yuki as Sano Mai (ep 1)
Urabe Fusako (占部房子) as Sano Miki (ep 1)
Watanabe Noriko as Kaito Sanae (ep 2)
Wakamatsu Takeshi (若松武史) as Kamiya Taichi (ep 2)
Morimoto Shintaro as Shimada (ep 3)
Community content is available under
CC-BY-SA
unless otherwise noted.