J.J. Express

J.J. Express' core 9 members (2005)

Members

14, 9 → 7 (Core)

Years Active

May 2nd 2004 - November 30th, 2007

Associated acts
J.J. Express was a Johnny's Jr unit. This unit disbanded on on November 30th, 2007 a few months after the formation of Hey! Say! JUMP.
J.J. Express first appeared on The Shounen Club on May 2nd 2004 with initial members four members: Matsumoto Kohei, Inoo Kei, Yamashita Takumi and Nakajima Yuto. Not too long after Tamamori Yuta and Arioka Daiki were also added to the group.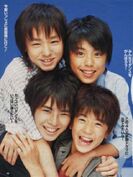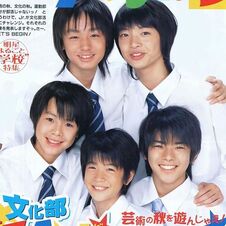 In 2005 Matsumoto Kohei left Johnny's, with issues regarding his academics, and both Tamamori and Takumi were moved to other Jr. groups.
Though, new members were then added including Asaka Kodai, Takaki Yuya, Hashimoto Ryosuke, Fukasawa Tatsuya, Kamei Taku, and Morimoto Ryutaro.
In 2006, Morimoto and Nakajima were moved to Tap Kids and the focus of the unit became the remaining 7 members. .
Asaka and Fukasawa were less seen during the start of 2007 and were moved to other Jr. groups thereafter. On the same year, J.J. Express was later disbanded when members Inoo Kei, Takaki Yuya and Arioka Daiki alongside former members Nakajima Yuto and Morimoto Ryutaro debuted into a new group, Hey! Say! JUMP.
J.J. Express often performed on the shows The Shounen Club and Ya-Ya-yah's show and generally performed music in the pop vein. They also did back up dance on occasions.
Next to Ya-Ya-ya, J.J Express was one of the most popular units of it's time.
Back In Time
Love Me Baby
Carnival Gannival (Carnival★ガンニバル)
PLEASEx3 (Chibikko Team)
Kanjiru Mama ni You & I (感じるままにYou& I) (Otona Team)
Shounen no Mama (少年のまま)
Stronger without you
Super Star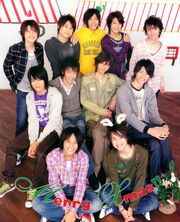 The Shonen Club
Ya-Ya-yah
Fans were worried about J.J. Express after the temporary Hey! Say! 7 unit was formed with Arioka
Daiki, Chinen Yuri,  Nakajima Yuto, Takaki Yuya and Yamada Ryosuke
Community content is available under
CC-BY-SA
unless otherwise noted.