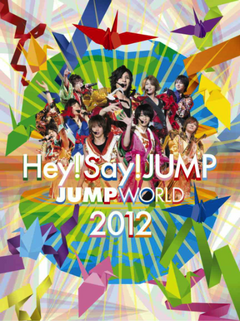 JUMP WORLD 2012 is Hey! Say! JUMP 's 14th concert tour April 28, 2012 - June 24, 2012. The DVD was released on November 7, 2012. Recorded live on September 25, 2011 at Yokohama Arena. Disc 2 features digest footage from their concerts held in Hong Kong and in Taiwan plus documentary of their overseas tour.
Disc 1
OVERTURE
Ultra Music Power
情熱JUMP
Dreams come true
SUPER DELICATE
Time
Star Time
ウタウタウ
花 えがお
ガンバレッツゴー!〜 / ス・リ・ル
GET!!
Score
スナップ
僕はVampire
パーフェクト ライフ
FLY
Magic Power
サム & ピンキー
夜は星をながめておくれ <Johnny's Jr.> ← Original by: Tegomasu
HELL,NO <Johnny's Jr.> ← Original by: KAT-TUN
ハイナ!<NYC>
Hurry up!
心・技・体
真夜中のシャドーボーイ
Beat Line
OVER
Hero
Dash!!
Thank You〜僕たちから君へ〜
「ありがとう」〜世界のどこにいても〜
Born in the EARTH
瞳のスクリーン
スクール革命
冒険ライダー
愛ing -アイシテル-

Digest footage from Hong Kong Concert
Digest footage from Taiwan Concert
Yokohama Arena Concert MC
Nankang 101, Taipei
April 28, 2012
April 29, 2012
Yokohama Arena
May 3, 2012
May 4, 2012
May 5, 2012
May 6, 2012
May 7, 2012
May 8, 2012
May 9, 2012
KITEC Star Hall, Hong Kong
May 26th 2012
May 27th 2012
Seoul Olympic Hall, Seoul
June 23, 2012
June 24, 2012
Hey! Say! JUMP
Members
Yabu Kota, Takaki Yuya, Inoo Kei, Yaotome Hikaru, Arioka Daiki, Okamoto Keito, Yamada Ryosuke, Nakajima Yuto, Chinen Yuuri
Morimoto Ryutaro
Albums
JUMP NO.1, JUMP WORLD
Singles
Ultra Music Power, Dreams Come True, Your Seed / Bouken Rider, Mayonaka no Shadow Boy, Hitomi no Screen, "Arigato" ~Sekai no Doko ni Itemo~, OVER, Magic Power, Super Delicate, Come On A My House
DVDs
Hey! Say! JUMP Debut & First Concert Ikinari! in Tokyo Dome, Hey! Say! Jump-ing Tour '08-'09, Hey! Say! 2010 TEN JUMP, SUMMARY 2010 , SUMMARY 2011 in DOME, JUMP WORLD 2012
Related Topics
NYC, Hey! Say! 7, Hey! Say! 7, Hey! Say! BEST
Community content is available under
CC-BY-SA
unless otherwise noted.