Lewis Masaya Jesse
(ルイス・まさや・ジェシー)

Jesse, January 2020

Nicknames

Jesse, Jesse-kun, Jeshitan, Jeshio, Jack, JC

Born

June 11, 1996 (24)

Zodiac sign

Gemini

Origin

Tokyo, Japan

Genres

Japanese Pop

Occupations

Singer, dancer, actor

Years active

September 11, 2006 - present

Labels

Associated acts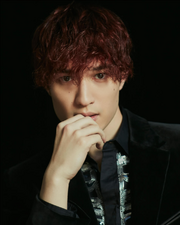 Jesse (ジェシー), real name Lewis Masaya Jesse (ルイス・まさや・ジェシー), is a Japanese idol, singer, actor and model. He is a member of the Japanese idol group SixTONES, which is under the management of Johnny & Associates.
Jesse joined Johnny's on September 11, 2006.
In 2012, he acted in Shiritsu Bakaleya Koukou with Kochi Yugo, Kyomoto Taiga, Matsumura Hokuto, Morimoto Shintaro and Tanaka Juri. Although an unofficial unit, the six found large popularity as Bakaleya6 (the name originating from the drama). It was not until Johnny's Ginza 2015 that Bakaleya6 was introduced as an official unit under the name SixTONES.
On August 8, 2019 it was announced that SixTONES and Snow Man will simultaneously make their CD debut in 2020.
His father, Alan Lewis, is an English teacher. He is from Las Vegas and his blood type is O. His mother is Japanese and her blood type is A. Jesse also has a sister who is eight years younger, a grandfather and a grandmother. The family has a Toy Puddle named Puma. Jesse is distant relatives with Inoo Kei.
Jesse studied at Clark Memorial International School.
Name: Lewis Masaya Jesse (ルイス・まさや・ジェシー)
Nicknames: Jesse, Jesse-kun, Jeshitan, Jeshio, Jack, JC
Birthdate: June 11, 1996 (24)
Western Zodiac: Gemini
Eastern Zodiac: Rat
Birthplace: Tokyo, Japan
Blood Type: O
Height: 184 cm (6'1 ft)
Shoe size: 27.5 cm
Sizes: B: 90 cm, W: 77 cm, H: 94 cm
Admired Sempai: Kimura Takuya, Domoto Tsuyoshi
Ability: monomane (Donal Duck, Fukuhara Masaharu, Tokunaga Hideaki, Machine Gun, Sticht), karate, dance.
Favorite Food: Sushi (salmon, eel), yakiniku
Disliked Food: Bitter gourd
Favorite Subject: English, mathematics science
Disliked Subject: National language, society
Favorite Aroma: Shampoo's aroma
Favorite Color: Blue, green, red
Favorite Flower: Tulip and rose. In his house there are so many flower that plant by his grandmother. He often watering the plants.
Favorite girl's hair style: Straight
Favorite girl's style: White bulky shpes
Favorite Manga: Prince of Tennis
Favorite Season: Winter
Favorite Snack: He has a top recipe named Jessemissu.
Favorite Song: KinKi Kids' songs
Favorite Word: Ohayou gozaimasu
Fear: Dark places, insects
Habit: Playing with his tongue
Strengths: Doesn't get angry easily, hates to lose, makes people laugh, never gives up, is self-confident
Weakness: Gets tired easily
[2012] Shiritsu Bakaleya Koukou
[2012] Sprout
[2013] Biblia Koshodou no Jiken Techou
[2013] Kamen Teacher
[2013] Pin to Kona
[2013] Ando Lloyd - A.I. Knows Love?
[2015] Oniichan, Gacha
[2018] Kaseifu no Mitazono 2
[2012] Shiritsu Bakaleya Koukou: The Movie
[2014] Gekijouban Kamen Teacher
[2016] Vanilla Boy: Tomorrow Is Another Day
[2019] Shonentachi
Senpais he is close with: Tamamori Yuta, Tsukada Ryoichi, Goseki Koichi, Yamashita Tomohisa, Fujigaya Taisuke.
Kouhais he is close with: Jinguji Yuta, Kishi Yuta.
He is close with Tanaka Juri, Matsumura Hokuto, Morimoto Shintaro, Kyomoto Taiga, Kochi Yugo]], Hey! Say! JUMP members and Kikuchi Fuma.
His father has blond hair and green eyes and is as tall as Jesse.
His nickname in R no Hosoku was Jesse (ジェシー) and his R's number was 000030.
He goes to Las Vegas every Christmas.
He speaks in English with his family.
If he had been born as a girl, he would have been named Jessica.
His nickname, Jack, given by his father. In English it means brat.
The origin of his name is from the bible. There was a person called Jesse, who could contact God. His parents wished that he could become a great person like that too.
He belonged to soccer club and volunteered in activities at school.
He is good at karate, soccer, sword fight, rope jumping, freestyle basketball.
He has a good reputation as a singer, but when he was in his second year of elementary school, his friend told him that he was not good at singing.
His favorite songs to dance to are Sing for you (Tamamori Yuta, Miyata Toshiya, Senga Kento), me~chikyuu no iru~ (Kinki Kids), REAL DX (Tackey & Tsubasa)
Community content is available under
CC-BY-SA
unless otherwise noted.