Kiriyama Akito

(桐山照史)


Kiriyama Akito, April 2019

Born

August 31, 1989 (age 31)

Origin

Osaka, Japan

Genre

J-Pop

Occupation(s)

Actor, singer

Years active

2006 – present

Label

Johnny's Entertainment (2014 - 2019)
Johnny's Entertainment Record (2019 - Present)

Associated acts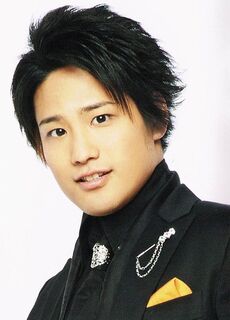 Kiriyama Akito (桐山照史) is a japanese idol, singer, host and actor. He is a member of the group Johnny's WEST.
Kiriyama Akito was born on August 31, 1989 in Osaka, Japan.
During the Johnny's Countdown at New Year 2014 was announced that Kiriyama Akito, together with Nakama Junta, Shigeoka Daiki and Kotaki Nozomu, were debuting in a new group named Johnny's WEST 4. Later was announced that 3 members were added to the group, Hamada Takahiro, Kamiyama Tomohiro and Fujii Ryusei) and that the group name was changed to Johnny's WEST.
Name: Kiriyama Akito (桐山照史)
Nickname: Akito (照史), Akiteru-kun (照(てる)くん), Terushi (てるし), Akkun (あっくん)
Profession: Actor, singer
Date of Birth: August 31, 1989 (age 31)
Birthplace: Osaka, Japan
Height: 174cm
Weight: 68kg
Blood type: A
Star sign: Virgo
Talent agency: Johnny's Entertainment
Johnny & Associates Groups:
Favorite food: Chocolate
Favorite season: Summer
Favorite animal: Insect
Favorite subject: Physical education, music, home economics
Favorite song: I will (KinKi Kids)
Favorite color(s): Tongue twister, arm wrestling
Ability: Black, white, red, pink
Catchphrase: "Atsui BIITO (Choudai)" (hot beat (please)) (熱いビート(ちょうだい))
Admired senpai: Kanjani8
Community content is available under
CC-BY-SA
unless otherwise noted.