Kishi Yuta
(岸優太)

Kishi Yuta, October 2018

Nicknames

Kishi-kun

Born

September 29, 1995 (25)

Zodiac sign

Libra

Origin

Saitama, Japan

Genres

Japanese Pop

Occupations

Singer, dancer, actor

Years active

July 20, 2009 - present

Label

Johnny's Universe

Associated acts
Kishi Yuta (岸優太) is a Japanese idol, singer and actor. He is a member of the Japanese idol group King & Prince, which is under the management of Johnny & Associates.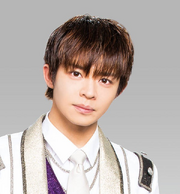 Kishi joined Johnny & Associates on July 20, 2009.
In 2013 he was a member of Johnny's Jr. unit Sexy Boyz.
In June 2015, a limited time unit Mr. King vs Mr. Prince was formed as an official supporter of the TV Asahi event "TV Asahi Roppongi Hills Summer Festival SUMMER STATION" and Kishi was selected as a member of Mr. Prince. After that it was announced that the unit would continue.
In 2018, Mr. King and Mr.Prince was renamed to King & Prince and they had their debut on May 23.
He has a father, a brother who is two years older and a sister who is three years younger.
Name: Kishi Yuta (岸優太)
Nicknames: Kishi-kun
Birthdate: September 29, 1995 (25)
Western Zodiac: Libra
Eastern Zodiac: Pig
Birthplace: Saitama, Japan
Blood Type: A
Height: 175 cm (5'9 ft)
Shoe Size: 26.5 cm
Sizes: B: 86 cm, W: 75 cm, H: 87 cm
Admired Senior: Ohno Satoshi, Takizawa Hideaki, Kitayama Hiromitsu, Domoto Koichi
Favorite Drink: Tomato juice
Favorite Food: Peach
Dislike Food: Green peas
Favorite Subject: PE
Dislike Subject: Math
Favorite Book: Illustration books
Favorite Color: Deep pink
Favorite Movie: Disney works
Favorite Number: 14
Favorite Season: Summer
Favorite Sport: Basketball
Hobbies: Fishing, collecting photographs, walking
Pair with: Miyachika Kaito
Special Skills: Monomane, sachihoko, cooking
[2013] Kamen Teacher
[2014] Kinkyori Renai: Season Zero
[2015] Oniichan, Gacha
[2014] Gekijouban Kamen Teacher
[2016] The Black Devil and the White Prince
[2018] Nisekoi
[2014-2016] Gamushara!
[2016-2018] Mayonaka no Prince
Closest Juniors: Iwahashi Genki, Haniuda Amu, Kuramoto Kaoru, Jinguji Yuta, Miyachika Kaito, Takahashi Fu
He is proud of his long fingers.
Community content is available under
CC-BY-SA
unless otherwise noted.