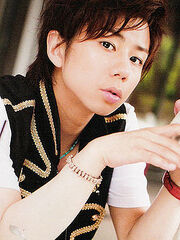 Hiromitsu Kitayama ( 北山宏光; Kitayama Hiromitsu) is the oldest member and current leader of the Johnny & Associates group Kis-My-Ft2 . He was also a former member of the temporary group Kitty GYM. He is the 'Ki' in Kis-My-Ft2.
Name: Hiromitsu Kitayama (北山宏光; Kitayama Hiromitsu)
Nicknames: Hiro, Hiromii, Mitsu, Mitsusu, Hiroppi
Birthdate: September 17, 1985 (Age: 32)
Birthplace: Kanagawa, Japan
Blood Type: A
Height: 168 cm
Weight: 55 kg
Hobbies: Shopping, video games, soccer, surfing
Admires: Noriyuki Higashiyama, SMAP, Hideaki Takizawa
Favorite Song: "Seppaku no Tsuki" by Kinki Kids
Favorite Sport: Soccer
Favorite Foods: Meat & Fish
Favorite Animal: Dog
Strong Points: Very good at sleeping & takes his time doing things
Weak Points: Oversleeps & takes too long doing things
Favorite Movie: Terminator
Good Friends With: Tadayoshi Okura from Kanjani 8
Image Color: Red
Out of the younger members of the group, he is good friends with Takashi Nikaido and Kento Senga.
He does all of the themes for all of the Kis-My-Ft2 songs and also teaches the harder skating stunts to the other members.
He attended the same high school as Tomohisa Yamashita of NEWS, Koki Tanaka of KAT-TUN, and Jun Hagesawa of Three Tops.
Although he is the oldest one in the group, he is also considered as the childish member.
He is a sleepy head and proudly states that can sleep anytime and anywhere.
Hiromitsu is a university graduate; he graduated from Asia University in 2008.
He is very passionate about everything he does and is very good at giving out advice.
Kitayama loves the countryside and plans on living there instead of in the city.
He sets his alarm clock ten times but still doesn't wake up to it. Everyone BUT him happens to wake up.
Dramas:
[2011] Misaki Number One!
[2011] Ikemen Desu Ne? (ep.11)
[2012] Beginners!
[2013] Kasuka na Kanojo
[2011.1.??] Duet 2011 February Issue (Cover & Feature)
[2011.1??] Wink Up February 2011 Issue (Cover & Feature)
Community content is available under
CC-BY-SA
unless otherwise noted.