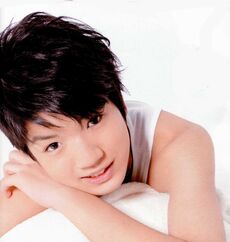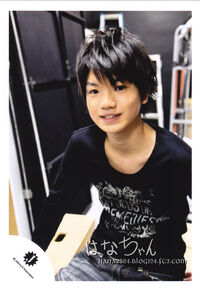 Kochi Yugo (高地優吾) is a member of Johnny's Entertainment group Nakayama Yuma w/ B.I.Shadow.
Information
Edit
He is also one of the newer members of B.I.Shadow and is the oldest. When first starting out in Johnny's, he was only a Johnny's Junior for one month before becoming a full time member of B.I Shadow.
After Sexy Zone debuted the end of 2011, B.I.Shadow disbanded.
In 2012, Kochi acted in Shiritsu Bakaleya Koukou with Jesse, Kyomoto Taiga, Matsumura Hokuto, Morimoto Shintaro, Tanaka Juri. Although an unofficial unit, the six found large popularity as Bakaleya6 (the name originating from the drama). It was not until Johnny's Ginza 2015 that Bakaleya6 was introduced as an official unit under the name SixTONES.
Singles Participated In
Edit
Nakayama Yuma w/B.I.Shadow
Edit
Fresh Johnny's Jr in Yokohama Arena
Live House Johnny's Ginza 2013
Live House Johnny's Ginza 2014
Gamushara J's Party!! Vol. 4
Gamushara J's Party!! Vol. 6
Gamushara J's Party!! Vol. 7
Johnny's Gimza 2015
Stage Plays
Edit
[2012] Gekijouban Shiritsu Bakaleya Koukou
Variety Show
Edit
The Shonen Club
Taki CHANnel
School Kakumei
Yan Yan JUMP
He is currently the oldest member in B.I.Shadow.
His hobbies are basketball, tennis, and hide-and-seek. He'd rather run around outside than be at home.
His talent is soccer.
He is hooked on shopping for clothes. He gathers info on fashion from reading magazines. The clothes he has are mostly black or plain colors.
His favorite foods are omurice (omlette rice) and strawberries. He can cook omurice by myself.
His least favorite food is shiitake mushrooms because he can't stand the smell or texture.
His favorite type of girls is cheerful.
His future dream is to become a celebrity.Before that, he'll do his best to be able to dance right. He couldn't get the rhythm right at first.
His favorite songs are "Monster" (Arashi) and "Koi no ABO" (NEWS).