Kyomoto Taiga
(本大我)

Kyomoto Taiga, January 2020

Nicknames

Kyomocchan, Kyomotan

Born

December 3, 1994 (26)

Zodiac sign

Sagittarius

Origin

Tokyo, Japan

Genres

Japanese Pop

Occupations

Singer, dancer, actor

Years active

May 5, 2006 - present

Labels

Associated acts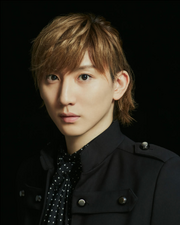 Kyomoto Taiga (京本大我) is a Japanese idol, singer, actor. He is a member of the Japanese idol group SixTONES, which is under the management of Johnny & Associates.
Kyomoto joined Johnny & Associates on May 5, 2006 without an audition. In the same year, he was selected as a member of Johnny's Jr. unit Kitty Jr.
In 2012, he acted in Shiritsu Bakaleya Koukou with Kochi Yugo, Jesse, Matsumura Hokuto, Morimoto Shintaro and Tanaka Juri. Although an unofficial unit, the six found large popularity as Bakaleya6 (the name originating from the drama). It was not until Johnny's Ginza 2015 that Bakaleya6 was introduced as an official unit under the name SixTONES.
On August 8, 2019 it was announced that SixTONES and Snow Man will simultaneously make their CD debut in 2020.
His father, Kyomoto Masaki (born January 21, 1959) is an actor & musician. His mother, Yamamoto Hiromi (born November 26, 1962) was a member of idol group Kyan Kyan. From his mother's side, he is the cousin of actor Koike Teppei. He has a Yorkshire named Anzu.
He went to Seijo Junior High School and Seijo High School, but transferred to Horikoshi.
Name: Kyomoto Taiga (本大我)
Nicknames: Kyomocchan, Kyomotan
Birthdate: December 3, 1994 (26)
Western Zodiac: Sagittarius
Eastern Zodiac: Dog
Birthplace: Tokyo, Japan
Blood Type: B
Height: 174 cm (5'9 ft)
Sizes: B: 80 cm, W: 79.5 cm, H: 86.5 cm
Feet Size: 27.5 cm
Ability: Karate, high jump
Admired Senpai: Yamashita Tomohisa, Tegoshi Yuya, Totsuka Shota
Charm point: Pale skin
Disliked Subject: Chemistry
Favorite Aroma: Fragrance of orange
Favorite Color: Purple
Favorite Drink: Cream soda
Favorite Food: Garlic yakisoba, tomato, miso ramen
Favorite Manga: Doraemon, Dragon ball, Naruto
Favorite Movie: Harry Potter
Favorite Season: Autumn
Favorite Song: Seishun Amigo (Shuuji to Akira)
Favorite Subject: English
Habit: Cracking his joints
Hobby: Robot dance, collecting stones, karaoke
Pair with: Yasui Kentaro, Uekusa Yuta
Strength: Hates to be a loser
Weakness: His pacing
[2012] Shiritsu Bakaleya Koukou
[2013] Kamen Teacher
[2014] Nezumi, Edo wo Hashiru
[2015] Oniichan, Gacha
[2016] Nezumi, Edo wo Hashiru 2
[2012] Shiritsu Bakaleya Koukou: The Movie
[2014] Gekijouban Kamen Teacher
[2014] Ninjani Sanjo! Mirai e no Tatakai
[2019] Shonentachi
Senpais he is close with: Fujigaya Taisuke, Tegoshi Yuya, Totsuka Shota
Juniors he is close with: Morita Myuto, Kishi Takayoshi, Anderson Casey, Jesse, Morimoto Shintaro, Tanaka Juri, Yasui Kentaro, Shimekake Ryuya, Nakada Hiroki
His favorite kohai is Haniuda Amu because he is Amu's favorite senpai.
He wrote his own song "Tears". He performed it at Shonen Club and Gamushara J's Party!!
He started doing karate from his first grade of elementary school.
In Johnny's Ginza 2014, he brought a bento which was made by his mother and there was a memo where "Do your best, Taiga" (今日も頑張って大我) was written.
When he was a child, he played with Yamada Ryosuke in the park.
He has been friend with Sakuma Daisuke since he was in kindergarten.
He is big fan of Detective Conan.
The origin of his name is to grow up big/great.
He belonged to tennis club at school.
His favorite song to dance is "REAL DX" (Tackey & Tsubasa)
Community content is available under
CC-BY-SA
unless otherwise noted.