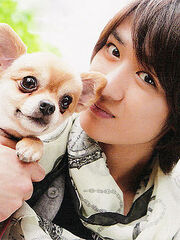 Toshiya Miyata (宮田俊哉, Miyata Toshiya) is a current member of the Johnny & Associates group Kis-My-Ft2. He is the 'M' in Kis-My-Ft2
Name: Toshiya Miyata (宮田俊哉; Miyata Toshiya)
Nicknames: Mitsuchi, Mii-kun, Miyacchi
Birthdate: September 14, 1988 (Age 29)
Birthplace: Kanagawa, Japan
Blood type: A
Height: 173 cm
Weight: 54 kg
Hobbies: Playing the guitar, harmonica, piaon, and violin
Strong Point: Happy person
Weak Ponin: Can't sense the atmosphere properly
Special Ability: Never worries about things
Favorite Sport: Soccer
Favorite Food: Meat
Treasures Most: Peaceful world
Enterered Johnny's: February 4, 2001
Image Color: Purple
Toshiya is the most optimistic member of the group and the most adult-like among the younger members.
He is a hardworking person and takes everything seriously.
He always skips meals with the rest of the Kis-My-Ft2 members and still needs to go on an outing with them. He explains that this is because they always plan one when he has to finish schoolwork.
Toshiya is a daydreamer and always seems to be in a type of fantasy land.
Co-member Hiromitsu Kitayama calls him the Neighborhood Ojisan.
He was called the juniors number one in walking the fastest.
He finds magazine interviews very fun and enjoyable.
Toshiya is admired for not worrying about anything.
He has the most trouble during practices, but enjoys dancing thoroughly.
He is considered the kindest member of the group and will be quickly defended by the other members if someone were to offend his kindness and the way who looks after the other members.
Miyata loves anime and manga.
He is also considered as the stingy one of the group because if you ask him to loan you money, he will calculate the interest rates for it on-the-spot.
He attended and graduated from Kokushikan University.
Dramas:
[2012] Shiritsu Bakleya Koukou
Movies: 
[2012] Shiritsu Bakaleya Koukou THE MOVIE
[2011.9.??] LOOK at the STAR! November 2011 Issue (Feature)
Community content is available under
CC-BY-SA
unless otherwise noted.