Morimoto Shintaro
(森本慎太郎)

Morimoto Shintaro, January 2020

Nicknames

Shin-chan, Shinchaman, Shintarosu, Goritaro

Born

July 15, 1997 (24)

Zodiac sign

Cancer

Origin

Kanagawa, Japan

Genres

Japanese Pop

Occupations

Singer, dancer, actor

Years active

October, 2006 - present

Labels

Associated acts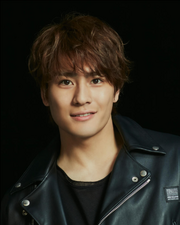 Morimoto Shintaro (森本慎太郎) is a Japanese singer, actor and member of the Johnny's Entertainment group SixTONES.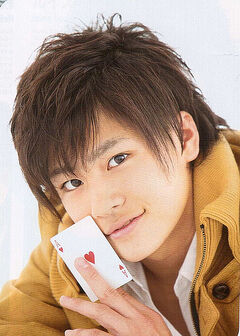 Information
[
]
He joined Johnny & Associates in October 2006 without auditioning.
In 2007, joined Jr. unit Tap Kids, where his brother Morimoto Ryutaro belonged to as well.
In 2012, he acted in Shiritsu Bakaleya Koukou with Kochi Yugo, Kyomoto Taiga, Matsumura Hokuto, Jesse and Tanaka Juri. Although an unofficial unit, the six found large popularity as Bakaleya6 (the name originating from the drama). It was not until Johnny's Ginza 2015 that Bakaleya6 was introduced as an official unit under the name SixTONES.
On August 8, 2019 it was announced that SixTONES and Snow Man will simultaneously make their CD debut in 2020.
Personal Life
[
]
He graduated from Horikoshi High School in the spring of 2016.
Profile
[
]
Name: Morimoto Shintaro (森本慎太郎)
Nicknames: Shin-chan, Shinchaman, Shintarosu, Goritaro
Birthdate: July 15, 1997 (24)
Western Zodiac: Cancer
Eastern Zodiac: Ox
Birthplace: Kanagawa,

Japan

Blood Type: A
Height: 175 cm
Weight: 65 kg
Admired Sempai

Takizawa Hideaki

Hobby: Soccer,reading manga,games
Skills: Soccer, Karate, bseball
Favorite Sport: Soccer
Favorite Color: Black,Red
Favorite Food: Salmon sushi.
Dislike: Vegetables
Favorite Drink: Cola
Favorite type of girl: Cute, friendly
Favorite Song: "Everything" by Arashi,"Kimagure JET" by

Takizawa Hideaki

and "Kisek" by

Takizawa Hideaki

Favorite Movie: "Jaws"
Good friend with : Otsuka Yuya, Tanaka Juri, Kikuchi Fuma
Works
[
]
Dramas
[
]
[2007]

Juken no Kamisama

(as Saionji Tadatsugu)
[2008]

Battery

(as Harada Seiha)
[2009]

Koishite Akuma

(as Miura Shota)
[2009]

Hataraku Gon!

(as Gondawara Haru)
[2010] Hidarime Tantei EYE (ep 4) (as Shimada)
[2012] Shiritsu Bakaleya Koukou
[2012]

Great Teacher Onizuka

[2013] Kasuka na Kanojo
[2018] Bukatsu, Suki Janakya Dame Desu Ka?
[2019] Kansatsui Asagao
[2020] Kansatsui Asagao 2
[2020] Morimoto Keiji no Ojisan Kansatsu Nikki
[2021] Bushi-Stant Aisakakun
Movies
[
]
[2009]

Snow Prince Kinjirareta Koi no Melody

[2012] Shiritsu Bakaleya Koukou: The Movie
[2014] Ninjani Sanjo! Mirai e no Tatakai
[2019] Ninja Drones? / Eiga Shonentachi
[2019] Shonentachi
[2021] Moeyo Ken
Variety Shows
[
]
Johnny's Jr Channel
YOUtachi!
The Shonen Club
Yan Yan JUMP
Gamushara!
Ocha no mizu Hakase
Johnny's Jr dex
Commercials
[
]
Able (2021)
Yakult (2020)
Baskin Robbins (2013)
31 Ice Cream Baskin Robbin "GW31% Campaign" (2013)
31 Ice Cream Baskin Robbin "Happy 4 You Campaign" (2013)
Lotte Choco Pie (2010-2019)
Musical Contributions
[
]
I'M IN LOVE (Composición: Morimoto Shintaro Lyrics: DJ-SHU)
External links
[
]