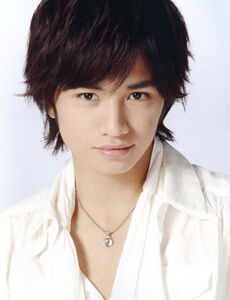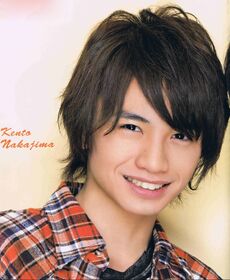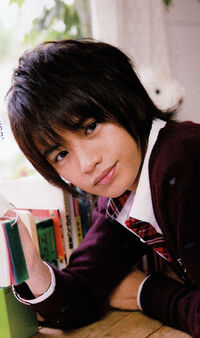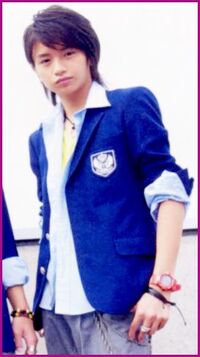 Nakajima Kento (中島健人) is a Japanese actor, singer and member of the Johnny's Entertainment group Nakayama Yuma w/ B.I.Shadow. He is currently going to debut with B.I.Shadow member Kikuchi Fuma and other Johnny's Jr's members in Sexy Zone.
Name: Nakajima Kento (中島健人)
Nicknames: Nakaji, Nakaken.
Birthdate: March 13, 1994 (24)
Birthplace: Tokyo, Japan.
Blood Type: A
Height: 175cm (5'9 ft)
Weight: 55kg
Skills: Piano.
Admired Sempai: Yamada Ryosuke.
Strong Point: Never giving up.
Weak Point: Impatient, loud sounds.
Favorite Food: Yakiniku, Sushi and Banana/
Dislike: Eggplant/
Favorite Colors: White, Black, Red and Yellow.
Favorite Song: "Bonnie Butterfly" (Kinki Kids),"Love Rainbow" (Arashi).
Favorite drink: Strawberry milk.
Favorite sport: Soccer.
Favorite movie: Ai.
Favorite type of girl: A cheerful, tidy and clean.
Johnny & Associates Group's:
Information
Edit
He joined B.I.Shadow with Kikuchi Fuma, and Takahata Misaki while filming for Scrap Teacher. He acted with Fuma Kikuchi, and Misaki Takahata in Scrap Teacher and in the Japanese Drama Koishite Akuma with main character and band member Yuma Nakayama.
Singles Participated In
Edit
Nakayama Yuma w/B.I.Shadow
Edit
[2008] Scrap Teacher ~Kyoushi Saisei~ (as Handa Hiroto).
[2009] Koishite Akuma ~Vampire Boy~ (as Minobe Kento).
[2009] Team Batista SP ~Nightingale no Chinmoku~.
[2011] Taisetsu na Koto wa Subete Kimi ga Oshiete Kureta (as Kodama Kentaro).
[2011] Umareru (as Hayashida Koji).
[2012] Kazoku no Uta (as Sakagami Kosei).