Nakama Junta


(中間淳太)


Nakama Junta, April 2019

Born

October 21, 1987 (age 33)

Origin

Hyogo, Japan

Genre

J-Pop

Occupation(s)

Actor, singer

Years active

2006 – present

Label

Johnny's Entertainment (2014 - 2019)
Johnny's Entertainment Record (2019 - Present)

Associated acts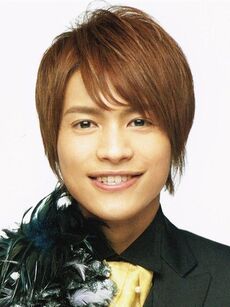 Nakama Junta (中間淳太) is a japanese idol, singer, host and actor. He is a member of the group Johnny's WEST.
Nakama Junta was born on October 21, 1987 in Hyogo, Japan and studied at the Kwansei Gakuin University. 
During the Johnny's Countdown at New Year 2014 was announced that Nakama Junta, together with Kiriyama Akito, Shigeoka Daiki and Kotaki Nozomu, were debuting in a new group named Johnnys' WEST 4. Later was announced that 3 members were added to the group, Hamada Takahiro, Kamiyama Tomohiro and Fujii Ryusei) and that the group name was changed to Johnny's WEST.
Name: Nakama Junta (中間淳太)
Nickname: Junta-kun (淳太くん), Junjun (じゅんじゅん), Jun (ジュン)
Profession: Actor, singer
Date of Birth: October 21, 1987 (age 33)
Birthplace: Hyogo, Japan
Height: 175cm
Weight: 59kg
Blood type: O
Star sign: Libra
Talent agency: Johnny's Entertainment
Johnny & Associates Groups:
Favorite food: Something red
Favorite season: Autumn
Favorite animal: Insect
Favorite song: I will (KinKi Kids)
Favorite color(s): Black, white, purple, pink, light blue
Catchphrase: "Junjun ni (Kyun Kyun)" (じゅんじゅんに(キュンキュン))
Admired senpai: Kanjani8
[2008] Gokusen THE MOVIE
[2012] Kansai Johnny's Jr no Kyoto Uzumasa Kyoshinkyoku!
[2014] Ninjani Sanjo! Mirai e no Tatakai
He has three pets, a yorkshire terrier called Jodie, a maltese dog called John and a lizard called Lemon.
His grandfather from his father side is a quarter Taiwanese.
He lived in Taiwan from third grader to ninth grader.
He is able to speak Taiwanese, Chinese and English
Belonged to volleyball club at ninth grader
Got English conversation class at kindergarten.
Community content is available under
CC-BY-SA
unless otherwise noted.