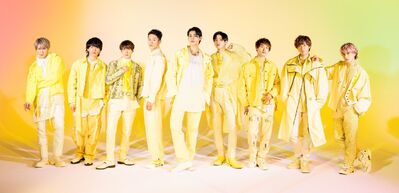 Snow Man is a nine-member male idol group under Johnny & Associates. The group was a former Johnny's Jr. unit and debuted on January 22, 2020. They specialize in acrobatics and dancing.
Members
[
]
Onodera Ikki (Part of Mis Snow Man)
Sanada Yuma (Part of Mis Snow Man)
Nozawa Yuki (Part of Mis Snow Man)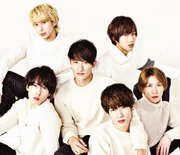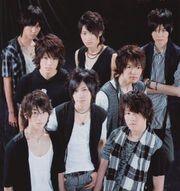 History
[
]
Mis Snow Man was created with the boys from Johnny's Jr. group Jr.BOYS for Takizawa Kakumei in January 2009. Mis Snow Man was originally a 9 member group, but in June 2009 Onodera Ikki was moved into another Johnny's Jr. group, M.A.D..
In 2012, Sanada Yuma and Nozawa Yuki were removed from the group and formed a duo Jr's group called noon boys. On May 3, Mis Snow Man changed their name to Snow Man.
On January 17, 2019 Mukai Koji, Meguro Ren (who was also a member of a junior group Uchuu Six) and Raul were added as new members. They appeared as a nine-member group for the first time at the Yokohama Arena performance on March 24. On August 8 during Johnny's Jr.'s live 'Johnny's Jr. 8.8 Matsuri ~Tokyo Dome Kara Hajimaru~' at Tokyo Dome, it was announced that Snow Man and SixTONES will simultaneously make their CD debut in 2020. It was also announced that Meguro would quit Uchuu Six and concentrate only on Snow Man. On October 24, it was announced that Snow Man's and SixTONES' debut CD will be a double A-side "collaboration" single. The first track will be group's own song, then the second track will be the other group's song.
Discography
[
]
[2020.01.22] D.D. / Imitation Rain
[2020.10.07] KISSIN' MY LIPS / Stories
[2021.01.20] Grandeur
Works
[
]
Music Videos
[
]
D.D (2020)
Crazy F-R-E-S-H Beat -Dance Video- (2020)
KISSIN' MY LIPS (2020)
Stories (2020)
Grandeur (2021)
Stage Play
[
]
Takizawa's New Year's Revolution (January 1, 2009 - May 27)
DREAM BOYS (September 4, 2009 - November 29)
Takizawa's New Year's Revolution (January 1, 2010 - February 5)
Takizawa's New Year's Revolution
Takizawa Kabuki (April 4, 2010 - May 8)
Concert
[
]
フォーラム新記録!!ジャニーズJr.1日4公演やるぞ!コンサート (June 7, 2009)
夏休み ジャニーズJr. 全員集合 (August 18, 2009)
みんなクリエに来てクリエ! part1 (May 11, 2010 - May 19)
みんなクリエに来てクリエ! part2 (May 21, 2010 - December 26)
Event
[
]
Athletes selected Johnny Fan Appreciation DAY 2009 (December 13, 2009)
PV Appearance
[
]
Tackey & Tsubasa's Journey Journey ~Bokura no Mirai~
Movie Appearance
[
]
[2011] Hot Snow
[2012] Shiritsu Bakaleya Koukou THE MOVIE
External Links
[
]