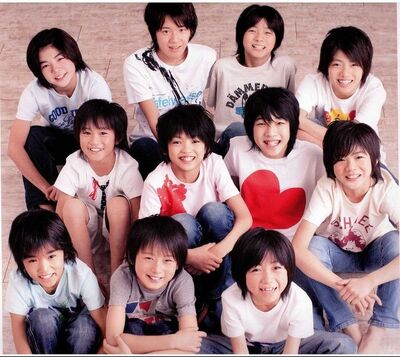 Snow Prince Gasshoudan (スノープリンス合唱団; Snow Prince Chorus) is a Johnny's Jr. group formed in 2009. This group is also refered as Morimoto Shintaro with Snow Prince Gasshoudan.
The group was created after the movie Morimoto Shintarou is starring, Snow Prince Kinjirareta Koi no Melody (スノープリンス 禁じられた恋のメロディ; Snow Prince Melody of Forbidden Love). On December 2, 2009 they released a single, "Snow Prince", to promote this movie.
Johnny & Associates
Groups
A.B.C.-Z, Arashi, GOLF & MIKE, Hey! Say! JUMP, Kanjani8, KAT-TUN, KinKi Kids, Kis-My-Ft2, NEWS, NYC, Sexy Zone, Shounentai, SMAP, Tackey & Tsubasa, TOKIO, V6
Special Groups
20th Century, Coming Century, J-FRIENDS, Kitty GYM, MATCHY with QUESTION?, Nakayama Yuma w/B.I.Shadow, NYC boys, Shuuji to Akira, Tegomass, The SHIGOTONIN, Toraji Haiji, TRIO THE SHAKiiiN
Solo Artist
Akanishi Jin, Domoto Koichi, Domoto Tsuyoshi, Ikuta Toma, Kondo Masahiko, Takizawa Hideaki, Yamashita Tomohisa
Kanto Jr.
Butoukan, Jr.BOYS, MADE, Mis Snow Man, M.A.D., MA-Mix, noon boyz, Question?, They Budou
Kansai Jr.
7 WEST, B.A.D., Gang-Star, Little Gangs, Shadow WEST, Veteran
Past Debuted Groups
Four Leaves, Hikaru GENJI, LITTLE GANG, Johnny's, Johnny's Junior Special, Ninja, Otokogumi, Shibugakitai, THE GOOD-BYE
Past Johnny's Jr. Group
A.B.C., A.B.C. Jr., B.I.G. WEST, B.I.Shadow, BOYS, FiVe, Four Tops, Heike-ha, Hey! Say! 7, I.N.G. Shinkoukei, J.J. Express, Kis-My-Ft, K.K.Kity, OSSAN, Snow Prince Gasshoudan, Tanokin Trio, Tap Kids, TOP Kids, V.West, Ya-Ya-yah
Community content is available under
CC-BY-SA
unless otherwise noted.