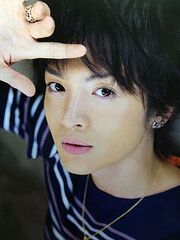 Tamamori Yuta (玉森裕太; Tamamori Yuta) is a current member of the Johnny & Associates group Kis-My-Ft2. He is the 'T' in Kis-My-Ft2.
Name: Tamamori Yuta (玉森裕太)
Nicknames: Tama-chan, Tama, Chantama, Tamanegi
Birthdate: March 17, 1990 (age 28)
Birthplace: Tokyo, Japan
Blood Type: B
Height: 179cm
Weight: 60kg
Hobbies: Sleeping
Strong Point: Can become friends with anyone
Weak Point: Gets tired of things fast
Admired Senpai: Yamashita Tomohisa
Special Ability: Can notice things fast, learned surfing in third grade
Favorite Sport: Soccer
Favorite Food: Tofu
Favorite item of Clothing: Shirts
Treasures the most: Graduation booklet
Favorite Song: "Yubiwa" by Yamashita Tomohisa
Entered Johnny's: December 1, 2002
Image Color: Yellow
Yuta had a hard time getting along with the girls in his class.
He is considered to have an unique dance style.
Tamamori is considered as the little "sister" of the group.
Hikaru Yaotome of Hey! Say! JUMP stated in an interview that he wanted someone to convince Yuta to wear a dress.
He has a caring, gentle nature.
He doesn't talk about anything else besides work.
Yuta cried once during a practice because of what was said to him by another member.
He wants to dance calmly like fellow member Hiromitsu Kitayama and with a stylish expression.
He is Takashi Nikaido's shopping partner.
His best friend in the group is Miyata Toshiya.
He is close with Hamada Takahiro of Johnny's WEST.
He loves saying cute stuff. For example, he uses the Japanese honorific "-san" to all things, even foods.
His mother was the one who applied him to the agency, and had to literally drag him to his audition.
He once liked baseball and joined his school's baseball team but quit because the shirts always have a tight fitting around the neck and because he just hated it.
Yuta always does stuff at his own pace.
Dramas:
[2009] Gokusen 3 Special
[2011] Shiwase ni Narou Yo 
[2011] Ikemen Desu Ne?
[2012] Saikou no Jinsei no Owarkita~ Ending Planner~
[2012] ATARU
[2013] ATARU SP
[2013] Nobunaga no Chef
[2013] Pin to Kona
[2014] Yonimo Kimyona Monogatari (Spring Special)
[2014] Nobunaga no Chef 2
[2015] Zeni no Sensou
[2015] Honto ni Atta Kowai Hanashi (Spring Special)
[2015] Seishun Tantei Haruya
[2017] Reverse
[2017] Juyo Sankounin Tantei
[2019] Grand Maison Tokyo
Films:
[2009] Gokusen the Movie
[2013] Shiritsu Bakaleya Koukou THE MOVIE
[2013] ATARU: The First Love & The Last Kill
[2015] Raintree no Kuni
[2019] Parallel World Love Story
Voice Acting:
[2016] King of Egypt as Bek/Beck (Gods of Egypt)
[2009] PLAYZONE 2009
[2010] Shounentachi ~Jail in the Sky~
[2006-2018] DREAM BOYS
[2013] DREAM BOYS JET
[2016-2017] Johnny's All Star Island
[2011.9.??] "Ikemen Desu Ne?" Official Photo Book (Feature)
[2011.6.??] Poplo August 2011 Issue (Cover & Feature)
[2011.7.??] Duet August 2011 Issue (Cover & Feature)
[2011.7.??] Wink Up August 2011 Issue (Cover & Feature)
[2011.7.??] POTATO August 2011 Issue (Cover & Feature)
[2015.08.12] AnAn Love and Sex Issue (Cover & Feature)
Community content is available under
CC-BY-SA
unless otherwise noted.