Hi, as you may know, I'm new to this wikia. I'm OtakuCrazy'99, but you can call me Maemaechan or Yume if you want. I came to this wiki because I am a huge fan of the Johnny's & Associates groups, Kis-My-Ft2 and KAT-TUN. I hope we'll all be friends here and I'll try my best to make the most out of this wiki. 
OtakuCrazy'99
Name: HIGHLY CONFIDENTIAL! Just call me Maemaechan or Yume; I insist!
Nicknames: Maemaecan/ Yume (Both self-given!)
Age: 14
Birthday: May 7
Birthplace: Washington
Hometown: Seattle
Nationality: Filipino
Eastern Zodiac Sign: Rabbit (Yes, a Momiji! :P)
Western Zodiac Sign: Taurus
School: SCS
Charmpoints: Glasses, penmanship, typing really fast on a keyboard (sometimes), writing
Weakpoints: Sports; getting things right away
Favorite Subjects: English & History
Worst Subjects: Math & (sometimes) Science
Favorite Foods: Chicken Alfredo, fried cheese wantons, teriyaki, coconut shrimp, orange chicken, chicken feet, broccoli, Pho, my mom's homemade smoothies
Least Favorite Foods: Mushrooms, papaya, persimmon, guava, sushi (if it has raw fish!), wonton soup, chicken liver, pork liver, tomatoes (unless you make it taste like it isn't a tomato)
Favorite Phrases: "Signe, cosigne, mentaiko!~", "Misa-Misa!", "Nya~nya!", "Gwiyomi!", "EHHHHHH?!!!", "Neeko kawaii; kawaii neeko!", "Bakayaro/ Baka!", "Henshin!", "A dream is a wish your heart makes.", "Usa-chan peace!", "Maji de?!"
Wikis I've Contributed To: Hello projectfanon Wiki (2012-Present)
                                          Kamen Rider Wiki (2012-Present)
                                          RangerWiki (2012-Present)
FAVORITE JOHNNY'S & ASSOCIATES GROUPS AND MEMBERS

[

edit

|

edit source

]
Kis-My-Ft2
Favorite Members:
Yuta Tamamori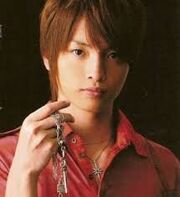 Taisuke Fujigaya
KAT-TUN
Favorite Members:
Kazuya Kamenashi 
Tatsuya Ueda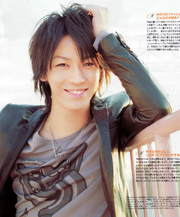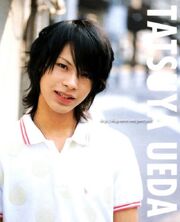 Shuji to Akira
Favorite Members:
Shuji Kiritani
Akira Kusano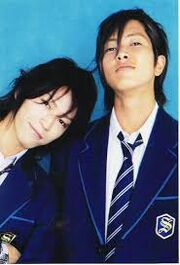 A.N.JELL
Favorite Members:
All
FAVORITE JOHNNY'S GROUP, GROUP MEMBER, AND FORMER SOLOISTS SONGS
---
---
Kis-My-Ft2: SHE!HER!HER!, WANNA BEEEE!, Shake It Up, Ai no Beat, My Resistance- Tashikana Mono, S.O.S.(Smile On Smile)
KAT-TUN: Real Face, Ano Hi No You Ni, Yuki no Hana, Kimi Michi, Love Yourself~Kimi Ga Kirai Na Kimi Ga Suki~,

Kazuya Kamenashi: Kizuna, Someday For Somebody, Plastic Tears, Lost My Way, Zutto
Tomaoisa Yamashita: Daite Senorita, Loveless, Yubiwa, Gomen Ne, Juliet
OTHER FAVORITE J-POP GROUPS: Hello! Project: Morning Musume Buono! Juice=Juice S/mileage C-ute W Rainbow Pink Berryz Kobo
AKB48 (somewhat)
    Passpo
    Nogizaka46 (somewhat)

---
---
Favorite Former Johnny's Entertainment Members:
---
Tomohisa Yamashita
---
Favorite Johnny's Dramas:
1. Nobuta wo Produce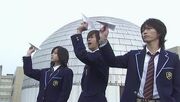 2. Nobunaga no Chef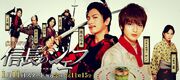 3. Ikemen Desu Ne?
4. Shiritsu Bakaleya Koukou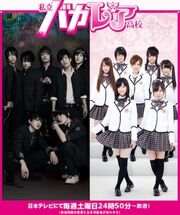 Community content is available under
CC-BY-SA
unless otherwise noted.