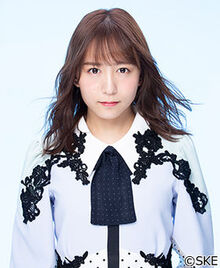 hi, my name is Yoon and I am an AKB48g wota, M-Line club stan, kpop multistan, and a variety show enthusiast.
Shining Golden TMI (aka Trivia!):

[

edit

|

edit source

]
I am currently in 9th Grade, gearing up for online classes.
I am currently 14, and a '06 Liner.
I discovered AKB48G because of IZ*ONE J-Line (Miyawaki Sakura, Yabuki Nako and Honda Hitomi.) and also Produce 48.
I'm still a baby AKB48 fan huhu (been in the fandom for 3+ months now)
I am a kpop fan since 2017 and I'm a multifandom, but I don't side when it comes to fanwars.
The reason why I'm not much updated to kpop news because of all the fandoms going crazy over fanwars, so finthe
meantime, I started supporting AKB48 and currently watch variety shows.
I am a Team 8 Oshi, with my Oshis being the Team 8 (not Team A, since they have different kanji) Yokoyama Yui and Honda Hitomi.
I also start to stan M-Line Club from Hello! Project (please don't blame me senpai fans...)
I have a habit of cursing too much, so much that I cant help but curse.
I listen to Day6's I Loved You everyday (every night~ feel like a fool~ you gotta know~ that was so bad I'm sorry)
I have a bad habit of chewing my nails.
I am a Filipino and I can speak a Filipino dialect, Filipino and English, and I'm still learning Korean and Japanese, hoping to be multilingual.
I have a lot of friends, both on- and offline.
I won't disclose my name due to personal and privacy reasons.
I sometimes throw puns here and there, and it became one of my habits.
I am a Catholic.
I drink coffee so much that I struggle to sleep every night so basically I have to skip coffee every other day.
I actually do bullet journal, for school purposes only.
I wouldn't be able to be on wikis for a while due to studies being my high priority.
Hobbies: Learning languages, Listening to music, Going to malls
Favorite foods and drinks: French Fries, Pizza, Cookies & Cream Ice Cream, Coffee Float
Favorite flower: Blue Orchid
Favorite dramas: My ID is Gangnam Beauty, Hotel Del Luna
Favorite movies: My Sassy Girl (boi I'm actually dyign to watch it aaa), Flu
Habits: Throwing puns, Snapping fingers, Stare at the mirror and pretend it didn't happen., Communicating
Favorite body parts: Hands, Eyes
Favorite colors: Rainbow (basically color palettes teehee)
Favorite countries: UK, South Korea, US, Japan
Favorite Kvariety Show: I Live Alone, My Little Old Boy, Knowing Brothers, etc.
Favorite Jvariety Show: AKBINGO!, Terrace House
Favorite Kpop song: A LOT! (i can't list them all down aaa)
Favorite 48g song: Kimi wa Melody, (previously Flying Get)
Currently Watching (Kvariety): I Live Alone (on Viu)
Hoping to watch: I Can See Your Voice, King of Masked Singer
Zodiac Sign: Pisces (yes those intertwining twin fishes swimming around)
Drama Hoping To Watch It Soon (Kdrama): Hospital Playlist, Matrimonial Chaos, Into The Ring, Team Bulldog: Off-Duty Investigation
Favorite words: OK!, 데이트~, 데이트~, 첫 데이트~ (date~, date~, first date~ (derived from Sunghoon from I Live Alone))
Disliked food: Fruits (i'm not used to it.)
Favorite flowers: Lavender, Blue Orchid
Favorite season: Summer!
Favorite Holidays: Holy Week, Christmas
Dream Job: Blogger (or if not, TV Personality)
Favorite snacks: Chips, Popcorn, Hot cup of Coffee
Meaning of username: Regulus (By ONEWE, stan them huhu) + Universe
Admired Members:
Favorite Album: 1830m
Johnny & Associates Oshis: Nakayama Yuma (the Yamada sisters influenced me huhu), Yamada Ryosuke
Community content is available under
CC-BY-SA
unless otherwise noted.