SweetS30

I describe myself as her, from the Anime AKB0048

Nicknames

SweetS, Ana

Born

May 30, 1995 (18)

Origin

USA

Genre

J-pop and K-pop

Occupations

Editing

Years Active H!P:

Summer 2007 - Present

Years Active Stage48:

January 15, 2010 - Present

Years Active Johnny & Associates:

April 17, 2010 - Present

Favorite Groups:

Wikia's

Hello! Project Wikia (2009-Present)
AKB48 Wikia (2010-Present)
Johnny & Associates (2011-Present)
AKB0048 Wikia (2012-Present)
One Direction Wikia (2012-2013)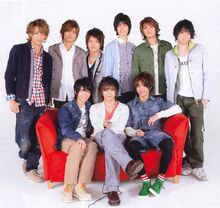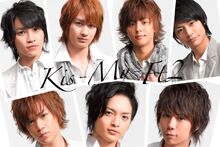 Welcome my name is Analia (あねりゃ) i love Johnny's groups alot ive known Johnny's since May 2010 when i was 14 years old. Its been 2 years since ive known them right know im 18 years old. I'm admin in Hello! Project Wiki, and founder of AKB48 Wiki and Johnny & Associates Wiki. If people talk shit about me i will defend my self no matter wat you say so get use it
My Profile
[
]
Years Active: September 14, 2011 - Present

1st Wiki Haitus: October 29, 2011 - November 8, 2011 (Went to Mexico)
2nd Wiki Haitus: April 28, 2012 - May 9, 2012 (Went to Mexico)

Member of Johnny & Associates Since: September 14, 2011
Founder of: AKB48 Wiki and Johnny and Associates Wiki
2nd Admin of: Hello! Project Wiki
Age: 17
Birthday: May 30
Height: 160.2 cm (5'3 ft)
Nationality: Mexican (live in America so Mexican-American I think)
Grade: Senior Year in High School
Mood: OK
Known AKB48: January 15, 2010 - Present
Known Johnny's: April 17, 2010 - Present
Years Knowing AKB48: 3 Years
Years Knowing Johnny's: 3 Years
Webiste: January 31, 2012 - Present

1st Website Haitus: March 19, 2012 - April 12, 2012
2nd Website Haitus: April 28, 2012 - May 9, 2012

Languages I Speak: English and Spanish
Laguages Learning: Japanese and Chinese
Impersonations: Majisuka Gakuen's Gekikara
Favorite Food: Strawberries, Cherries, Bananas
History
[
]
2007
[
]
I discovered Hello! Project through Shugo Chara the show and manga in 2007 when Buono! was first created i was about 12 years old when i discovered them. i liked the book soo much that i decided to see if their was a show about it and i did. When i was watching the show i started to like the opening theme and ending theme from Buono! 1st single Honto no Jibun and Kokoro no Tamago.
2008
[
]
I discovered Berryz Koubou and ℃-ute through the Buono! members, i discovered Berryz Koubou through their single Special Generation and C-ute through their single Ooki na Ai de Motenashite. Through Berryz Koubou and C-ute i discovered Aa! and fell in love with their single First Kiss, and i decided to figure out who the other member of Aa! Tanaka Reina was and thats how i discovered Morning Musume and started liking their 20th Single Go Girl ~Koi no Victory~, then i started to see the rest of the members and i found ZYX and started liking their Singles.
2009
[
]
Around to 2009 i knew all Morning Musume, Berryz Koubou, and C-ute members and some of their singles. Around the middle of 2009 i knew all of the groups in Hello! Project. Around the end of 2009 i went to Natsuyaki Miyabi's trivia and i found out that she had a cousin in AKB48 and started listening to their songs and fell in love with some of them but mostly i fell in love with River.
2010
[
]
Around the beginning of January, i started to like AKB48 more and decided to hear their singles or if they were in any dramas. Thats when i saw Majisuka Gakuen i mostly like Matsui Rena's character Gekikara. So i decided to see which group she was in i found out she was in SKE48. I listened to SKE's 2nd Single i kept listening to it so thats i how i found AKB48 and SKE48.
Around the end of March 2010, i went on Google and decided to see if any H!P members were caught in a scandal and decided to see with who, and my last one was Natsuyaki Miyabi and Arihara Kanna, i first decided to see Kanna's, she was caught in a scandal with a Johnny's member but i didnt to that much research on him because he didnt have that much information. My last one was Miyabi's scandal that was Inoo Kei from Hey! Say! JUMP and decided to look up information about him, so i decided to listen to their singles in fell in love with them around the beginning of April 2010 i mostly with in love with their 4th single Mayonaka no Shadow Boy.
By the beginning of May i knew all the Hey! Say! JUMP members and i also knew all the senbatsu members from AKB48.
Every day i would always look if H!S!J would release a single at the end they did so everytime i would always look if they are.
My Favorite J-Pop Songs
[
]
Johnny's Songs

[

]
Hey! Say! JUMP - Beat Line
Hey! Say! JUMP - Super Delicate
Yamada Ryosuke - Mystery Virgin
Arashi - Breathless
KAT-TUN -

Face to Face

NEWS - WORLD QUEST
Arashi - Calling
Hey! Say! JUMP - Over
Hey! Say! JUMP - Come On A My House
Kis-My-Ft2 - My Resistence
Hey! Say! JUMP - BOUNCE
Kis-My-Ft2 - S.O.S
Arashi - Your Eyes
Sexy Zone - Real Sexy
Kis-My-Ft2 - Shake it Up
NEWS - Sakura Girl
ALL48 Songs
[
]
AKB48 - Flying Get
AKB48 - Beginner
AKB48 - RIVER
AKB48 - Shoujotachi yo
AKB48 - First Rabbit
AKB48 - Kaze wa Fuiteiru
AKB48 - UZA
AKB48 - Everyday, Katyusha
Team Surprise - Juuryoku Sympathy
SKE48 - Choco no Dorei
NMB48 - Bokura no Eureka
NMB48 - HA!
NMB48 - Zetsumetsu Kurokami Shoujo
AKB48 - Seishun to Kidzukanai Mama
AKB48 - Boku ni Dekiru Koto
AKB48 - Anata ga Ite Kureta kara
H!P Songs

[

]
Morning Musume - Brainstorming
Morning Musume - Kimi Sae Ireba Nani mo Iranai
Morning Musume - Wakuteka Take a chance
Morning Musume - Help me!!
Morning Musume - One•Two•Three
Berryz Koubou - Cha cha SING
C-ute - Crazy Kanzen na Otona
C-ute - Aitai Aitai Aitai na
S/mileage - Suki yo, Junjou Hankouki
S/mileage - Suki-chan
C-ute - Dance de Bakoon!
Berryz Koubou - Asian Celebration
Morning Musume - GIVE ME LOVE
Buono! - Bravo Bravo
Morning Musume - Bravo!
S/mileage - Uchouten LOVE
Morning Musume - Bravo!
Other J-Pop
[
]
Fairies - White Angel
Amuro Namie – Black Out ft. Lil Wayne and VERBAL
Fairies - Beat Generation
Fairies - One Love
Amuro Namie – Unusual ft. Yamashita Tomoshia
Amuro Namie – Make it Happen ft. After School
K-Pop Songs
[
]
Girl's Generation - Run Devil Run
Kara - Jet Coaster Love
Girl's Generation - Mr.Taxi
Kara - Jumping
Kara - Mister
After School - Bang!
Girl's Generation - Oh!
Girl's Generaion - Gee