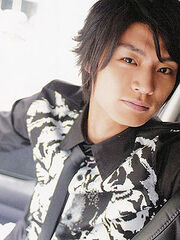 Wataru Yokoo (横尾​​渉; Yokoo Wataru) is a current member of  the Johnny & Associates Group Kis-My-Ft2. He is a former member of the group K.K.Kity. He is also the 'Y' in Kis-My-Ft2.
Name: Wataru Yokoo (横尾​​渉; Yokoo Wataru)
Nicknames: Yoko, Yaiba, Wataru, Wata, Wattan, Yokoo-san, Yokoo-chan
Birthdate: May 16, 1986 (Age 31)
Birthplace: Kanagawa, Japan
Bloodtype: A
Height: 177 cm
Weight: 52 kg
School: Graduated from Yokohama Souei High School
Family: Parents, older brother, and his five dogs
Strong Point: Can react fast to different situations
Weak Point: Loses interest in things very quickly
Hobbies: Darts, pool, soccer, basketball
Admired Sempai: Tsuyoshi Domoto & Kazunari Ninomiya
Favorite Sports: Soccer, baseball, & basketball
Favorite Foods: Ushisa, yakitori, & fish
Favorite Items of Clothing: Tank tops & small accesories
Favorite Colors: White & black
Type of Girl He Likes: Fair skinned
Treasures the Most: Friends
Entered Johnny's: February 4, 2001
Image Color: Orange
He is the second oldest member of the group but is considered by the other members to be an older brother in some ways.
All of the Kisumai members respect him a lot; co-member Hiromitsu Kitayama has even called him Yokoo-san even though he is one year younger than him.
Wataru is the type of person who wants to hear what he wants to hear; like praises.
He entered the agency the same time Takashi Nikaido and Toshiya Miyata, and is thus considered a close friend of Takashi's.
He considers places where he performs with the group as stressful.
Yokoo doesn't look like he cares, but he really does care about the group and the other members a lot.
He always stays calm and is a good listener.
He believes Hiromitsu's pace for the group is good because it gives them a break from basically everything.
He loves to dance but loves to watch others dance even more, so he goes to concerts every chance he gets.
Wataru is always encouraging the other members in everything that they do.
He once stated that fellow co-member, Kento Senga, would make a good leader of the group someday.
He is known as a clean freak by the other members and they always joke about him acting like a "mother".
Yokoo is called the mature one in the group and is the most reliable.
He always brings everything in a bag, which makes the others go to him if they want to borrow something.
Wataru is also known for his hot temper and being a bit sharp-tongued when the stituation calls for it.
Dramas:
[2010] Freeter, Ie wo Kau
Community content is available under
CC-BY-SA
unless otherwise noted.